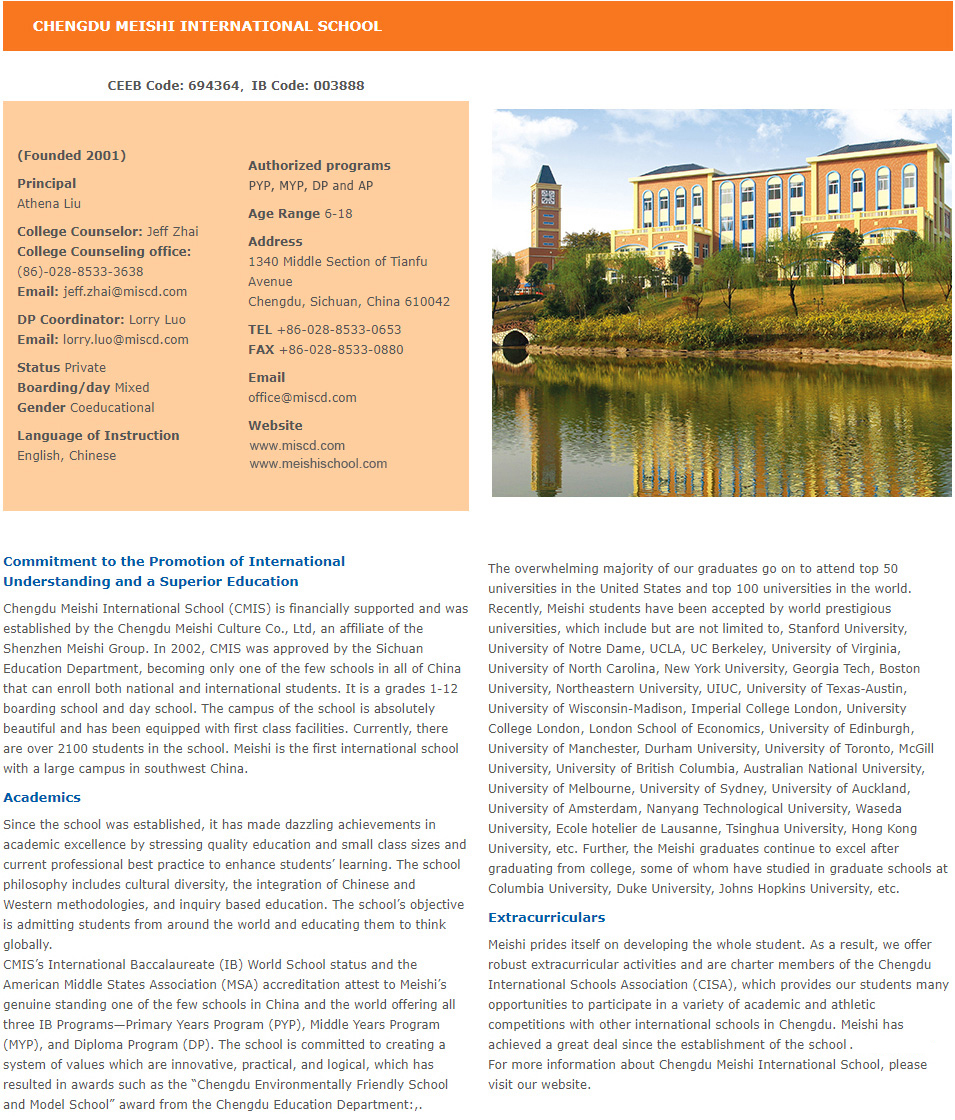 EDUCATIONAL ACHIEVEMENTS
Chengdu Meishi International School (CMIS) was established by Chengdu Meishi Culture Co., Ltd, which is a branch of Shenzhen Meishi Group. Approved by the Sichuan Education Department, the school was established in 2002. It is a K-12 boarding school and covers an area of 230 mu. It lies in the extension area of Renmin Nan Road of the Hi-tech Zone in Chengdu. The beautiful campus is equipped with in-door basketball stadium, full-sized football field, tennis courts, piano rooms, art spaces and dance studio. Currently, there are over 2,400 students in the school, including approximately 730 students in the Integrated Programs.
CMIS has made significant achievements in education by embracing the philosophy of cultural diversity, inclusion, innovation, and scientific approach to education. The objectives of the school are to accept students from around the world, and educate them with international minds and outlook. Our school management principle lies in "academic excellence comes from details". We have made great achievements by adopting the model of small-sized classes, creating strong international cultural atmosphere, and integrating the best of Western and Chinese education into blended academic programs. Accredited by the NCPSA (the National council for Private School Accreditation), the Ai (the Accreditation International), the MSA-CESS (the Middle States Association of Colleges and Schools Commissions on Elementary and Secondary Schools), CMIS is a true international school with global recognition.
Chengdu Meishi International School is the only school in western China with three major IB programs , offering IB courses from PYP, MYP to DP. With diversified courses, rich extracurricular activities and a free and active learning atmosphere, every year a group of students from CMIS matriculate to the world's top 100 universities.
As a school that can accept national Chinese students as well as students with foreign passports, CMIS has teachers and students from dozens of countries, forming a natural cross-cultural environment.
Certificate of IB DP Authorization

National Council for Private School Accreditation (NCPSA)

Certificate of IB MYP Authorization

Accreditation International (Ai)

Certificate of IB PYP Authorization

MSA-CESS Accredited